PXIe800Z is based on Xilinx Zynq UltraScale+ MPSoC FPGA family. Depending on the choice of FPGA  (XCZU7EV / XCZU7EG/ XCZU11EG / XCZU7CG in  C1156 package) it can be sued for High Performance Computing (HPC), digital communication or image processing, including AR/VR applications. Sundnce DSP supplies several frame grabber modules ranging from MIPI to Cameralink which can create a suitable platform for AR/VR solutions. The selection of FPGA used on this board and their available resources are shown below.
The platform can take standard FMC based hardware or custom size FMC hardware solution which offer much larger PCB area for design and front panel area for placing IO interfaces (see the size and format of custom FMC in the Additional Images' tab). This makes the hardware particularly suitable for high-end test and measurement applications with custom FMCs which we can help design.
Summary of devices and available resources: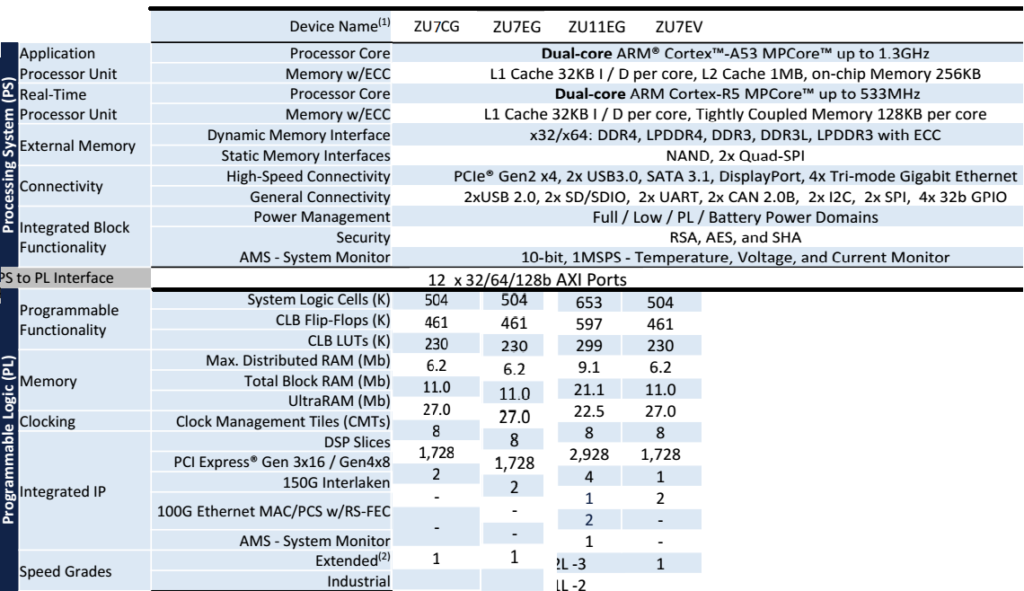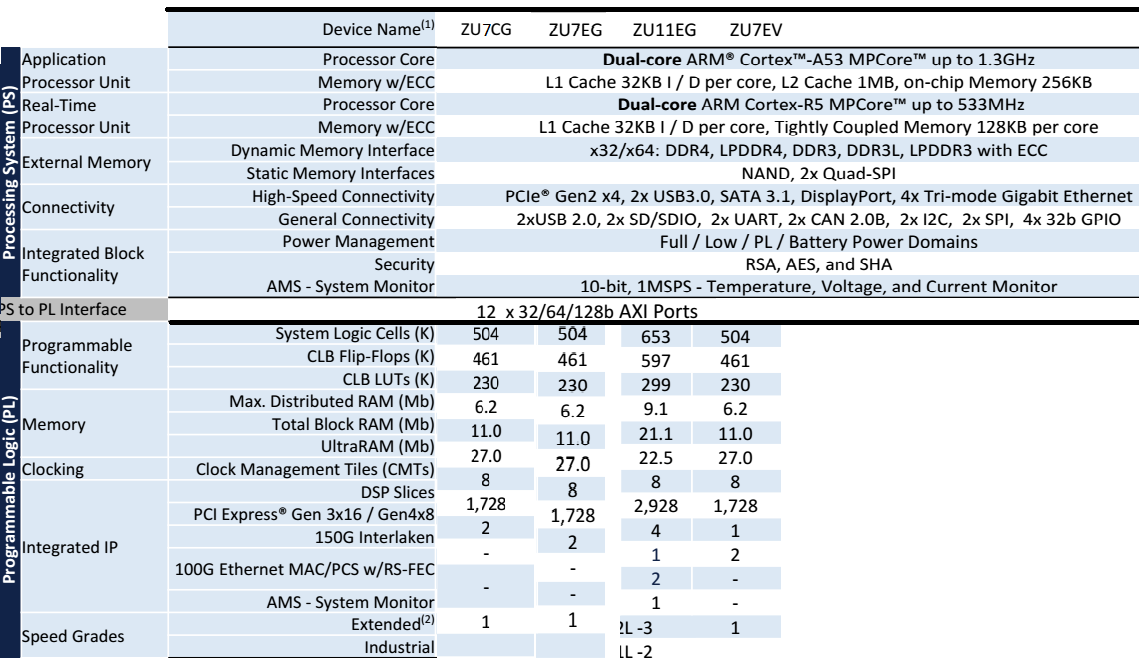 Features
Can use extra large FMC modules for custom application
Virtex Ultrascale+ Zynq MPSoC FPGA in C1156 package (XCZU7EV / XCZU7EG/ XCZU11EG / XCZU7CG)
4GB of DDR4 to PL
Flash memory for user application bitstream
Micro SD card for running OS and embedded applications (attached to PS part).
JTAG through USB2.0 connector
SFP+ attached to PL
System monitoring
x8 lanes PCIe Gen4
1 FMC expansion site with 10 GTH  at 16.3Gb/s transceivers and 56 LVDS IO pairs
Video Codec H.265/H.264 with XCZU7EV
GTH,GTY, 100EMAC and  Interlaken, when fitted with XCZU11EG
for the ARM processors within the Zync following interfaces are available:

Display port
2x SATA
1x CAN
Up to 32 GB of SDRAM via DDR4 SODIMM to PS
1 xUSB 3.
2 x USB2
2 x SATA
1 x RJ45
 Applications
Defense
Medical Imaging
Machine Vision
Stereo vision
Artificial Reality /Augmented Reality
Control
Instrumentation and testing
Software Defined Radio
Data capture and logging
| | | | | | |
| --- | --- | --- | --- | --- | --- |
| | |   |   |   | |
| omponent side of PXIe800Z |  Solder side of PXIe800Z |  PXIe800Z without FMC Carrier |  PXIe800Z+FMC carrier |  PXIe800+Extra large FMC |  Dimensions of Extra large FMC |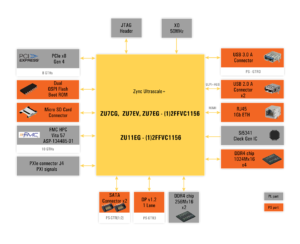 PXIe800Z block diagram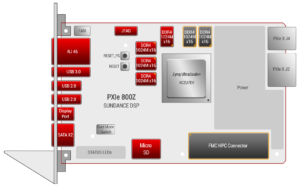 XIe800Z component placement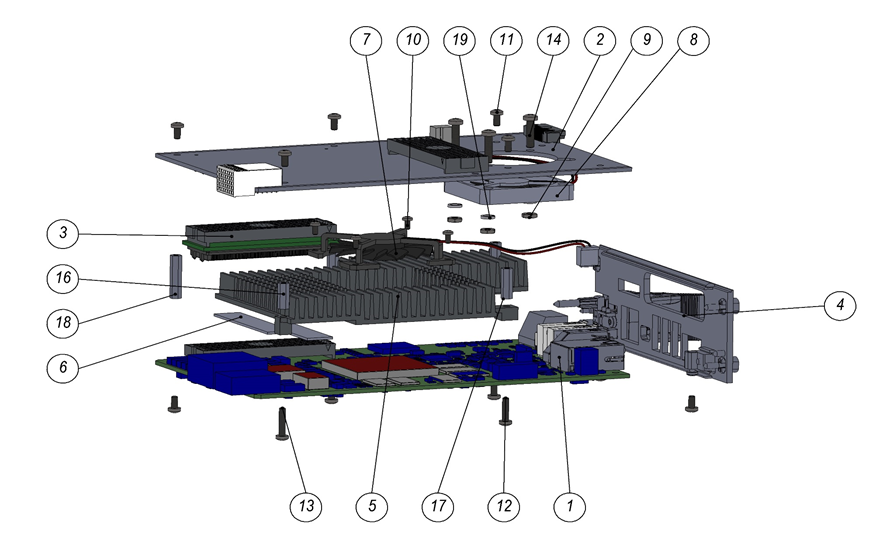 Exploded view of PXIe800Z + inter-poser and FMC carrier. It also shows the heat sink.
| | | |
| --- | --- | --- |
| 1 | PXIe800Z board | 1 |
| 2 | PXIe800Z-FMC board | 1 |
| 3 | PXI800Z interposer board | 1 |
| 4 | Front panel 3U 4HP | 1 |
| 5 | Heatsink | 1 |
| 6 | Thermal Pad thickness 1mm | 1 |
| 7 | FAN 45x45x10mm Evercool EC4510M12S-X | 1 |
| 8 | FAN 40x40x6mm Orion OD4006-12HSS | 1 |
| 9 | Nut DIN 439 M3 | 3 |
| 10 | Screw DIN 7985 – M2 x 4 | 4 |
| 11 | Screw DIN 7985 – M2.5 x 5 | 16 |
| 12 | Screw DIN 7985 – M2.5 x 10 | 4 |
| 13 | Screw DIN 7985 – M2.5 x 12 | 1 |
| 14 | Screw DIN 7985 – M3 x 12 | 3 |
| 15 | Post 10 M2.5 | 2 |
| 16 | Post 11.1 M2.5 | 1 |
| 17 | Post 13,1 M2.5 | 3 |
| 18 | Post 18.6 M2.5 | 1 |
| 19 | Washer DIN 7980 M3 | 3 |