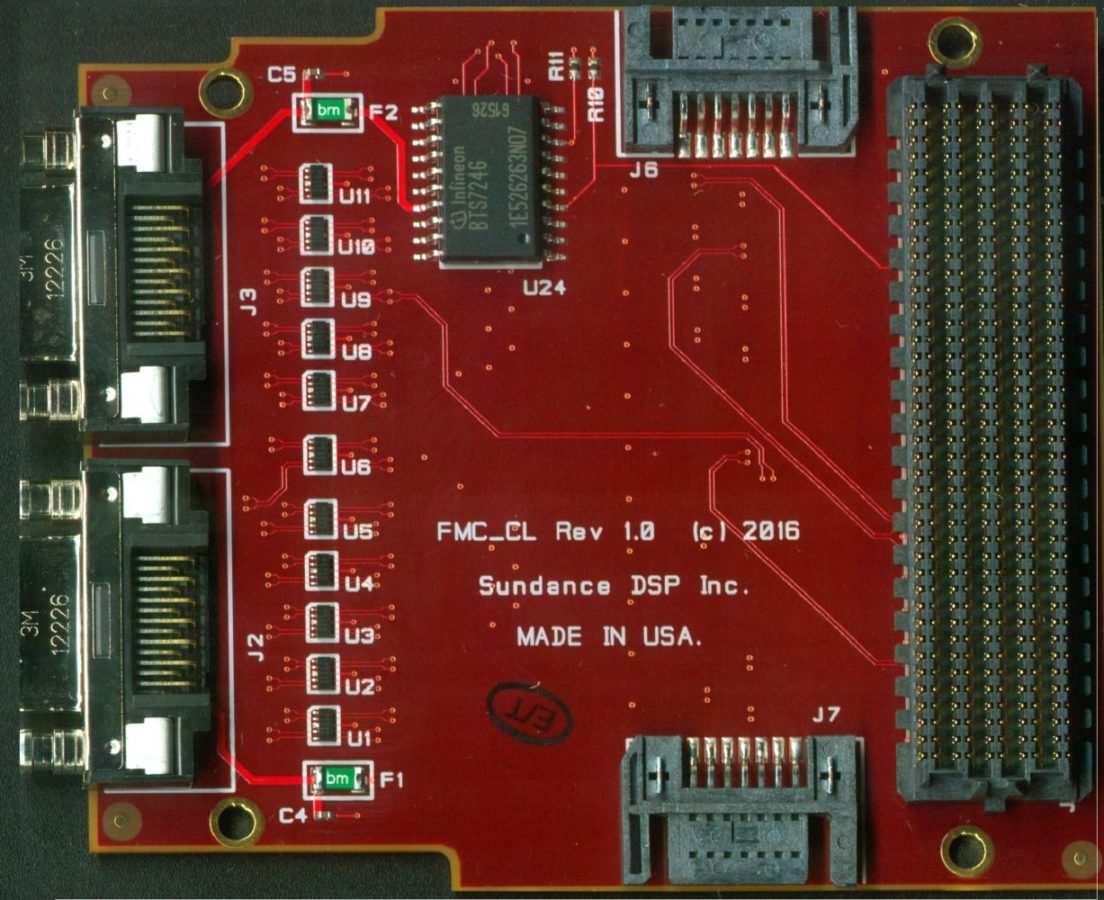 FMC/CL is a Camera Link FMC (FPGA Mezzanine Module) that interfaces to quad BASE, MEDIUM, and dual FULL and Extended FULL Camera Link compatible cameras.
The FMC/CL has variety of I/O capabilities – 2 x SATA connectors and 4 CL connectors that can also be used as a general purpose I/O.
Table below shows the mode and the support provided by the hardware based on FPGA card used.
| | | |
| --- | --- | --- |
| Interface | LPC Carrier | HPC Carrier |
| Single Base CL | √ | √ |
| Dual Base CL | √ | |
| Quad Base CL | | √ |
| Single Medium CL | √ | √ |
| Dual Medium CL | | √ |
| Single Full / Extended Full CL | √ | √ |
| Dual Full / Extended Full CL | | √ |
| 1x SATA-3 | √ | √ |
| 2x SATA-3 | | √ |
Features
Dual Base, Quad Base, Medium, Full and Extended Full CL configuration
PoCL (Power over Camera Link) support
Up to 85 MHz data rate
ESD protection for all Camera Link signals
Optional Dual SATA for direct disk interface
LPC (low pin count) and HPC (high pin count)
Commercial and Industrial grades
Supports Sundance DSP Video Generator
Applications
High-end image processing
Defense
Machine vision
Video analysis
FMC-CL is supported by Sundance DSP PXIe700, and K800 PCIe FPGA boards using Xilinx Kintex series. The IP core for capturing the frames from the camera(s) is included. An extension PC bracket and flex cables allows the use of two cameras in Full/Extended modes.
PXIe700 and K800 are 100% user programmable with an open FPGA that enables users to implement their proprietary image and signal pre-processing algorithms. Custom functions can use XC7K325T-1FFG900C or XC7K410T-1FFG900C (optional industrial grade) FPGAs. This module can be expanded/pipelined using additional FPGAs if necessary. PXIe700 has also 2 banks of DDR3 memory, 1GB each, 32-bit wide and 128 MB FLASH. PXie700 has 10Gb Ethernet or Fiber Optics communication links.
In conjunction with PXIe700, FMC/CL can be used as a video generator supporting Sundance DSP VideoGuru a professional video analyzer and generator for both analog and digital signals.