FMC-GPIO-68SE is a conduction cooled HPC FM. It provides 68 Single Ended GPIOs through connector at the front bezel. The IOs are taken through level translator ICs which are auto sensing and can covert from 1.8V to 3.V, or 5V, and vice versa. There is a build option to make some or all of the IOs be pass through and not be affected by the level translators. The front bezel has a Samtec ERF8-040-01-L-D-RA-L-TR connector. 6 Samtec RSP-122811-01 connectors are used as 3 differential pairs for directly transferring signals to the HB bank. These are useful for providing external clock and/or synchronization signals.
Features
68 Single Ended IOs or 34 differential pairs without level translation

Auto sense, level translation of all or some of the IOs from 1.8V to 3.3 or 5V


Pass through option

3 differential pairs through 6x Samtec connectors RSP-122811-01

Vadj from carrier card

HPC FMC

Conduction cooled
Applications
Signal conditioning and processing
Defense
Medical
Industrial control
| | | | |
| --- | --- | --- | --- |
| | | | |
| solder side | component side | frontal view | Samtec cable |
Block Diagram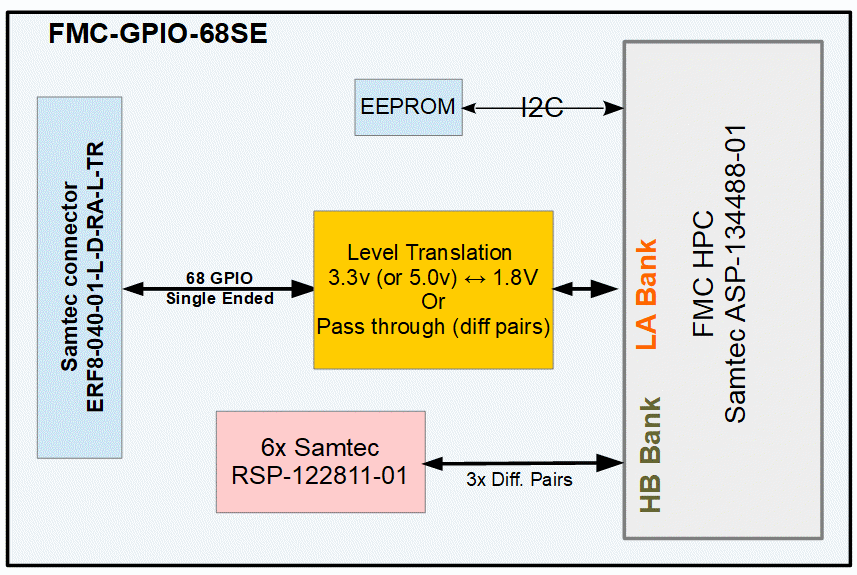 FMC-GPIO68SE is supported by Sundance DSP PXIe700, PXIe800, SE120 and PCIe104Z boards. The mpdule can also be used with third party FPGA cards.
FMC-GPIO-68SE-x-y
x: T  or blank- Add Level Translators
    D – Direct diff pair connection to carrier card. Level Translators are not populated
y: Blank – No conformal coating
    CC – Conformal coated
Default build is with x=blank which means Level Translators on all 68 lanes.