Simplify your complex design and reduce the time-to-market of your products by dropping in a SOM module as a component in the design. SoM3 is a System On Module using the powerful, low-power, and highly secure PolarFire FPGA from Microsemi. It is based on the PolarFire FPGA MPF300T in FCVG484 package speed grade 1. The module is compatible with some SoMs from Trenz and can be plugged into the Sundance SE215 PCIe carrier, or  EMC2-DP PCIe104 card, or suitable Trenz SOM carrier cards. The module is particularly suitable for applications needing high security and where low power and small space are required. This SOM has a small footprint of 40x50mm. PolarFire FPGAs offer design security with transceivers, low power transceiver devices, data security with transceivers, and low power data security with transceiver devices. All PolarFire FPGAs are integrated with multi-protocol industry-leading low-power transceivers. Low power (L) devices provide up to 35% lower static power. Also, data security (S) devices have an integrated DPA-safe crypto accelerator. PolarFire Devices are currently offered in Extended Commercial (0ºC to 100ºC) and Industrial (–40ºC to 100ºC) device offerings. TheLibero SoC PolarFire Design Suite delivers many soft IP cores, including a RISC-V processor, Data Security, Ethernet, DES encryption, error detection and correction, and more. This helps kick start many development projects and reduces time to market.
SOM3  is by default populated with MPF300T-1FCVG484 device but can be optionally built with MPF100T, 0r 200T in the same package for reducing cost. With any of the options, the module provides many IOs and 4 high-speed transceivers. Below is the table showing resource and family details of the PolarFire range.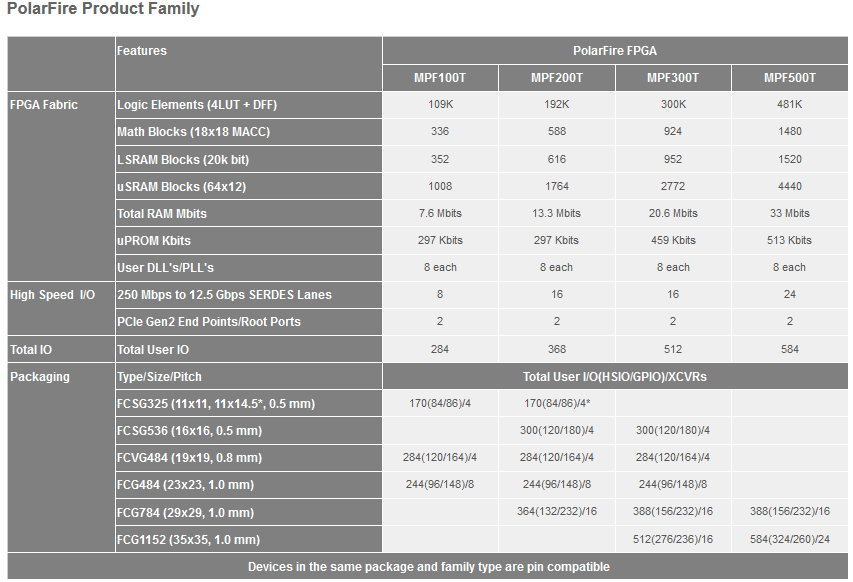 Features
Uses MPF300T in FCVG484 (optionally can also use 100 and 200T versions of the FPGA)
4GB of DDR4 memory
Small footprint, System On Module (SOM) with 40 x 50 mm dimension
compatible with some Trenz SOMs and carriers
Total User I/O:   (HSIO/GPIO)/XCVRs  -> 284(120/164)/4
low power and high performance
exceptional security
many hard IP cores, including RIS and ARM processors
4 high-speed transceivers
SPI FLASH
10/100/1000Mbit Ethernet PHY on board;
Flexible clocking IC – SI5338A-B-GM with 25MHz ±10ppm reference oscillator
The lowest static power—1/10 static power vs. competing devices
Transceiver optimized for 12.7 Gbps, which yields 1/2 the power vs. competing devices
Low power Flash*Freeze mode yields best-in-class standby power
Integrated hard IP—DDR PHY, PCIe endpoint/root port, the cryptoprocessor
Total power (static and dynamic)—up to 50% lower power
Applications
Communications
Defense
Intelligence
Medical
Industrial control
Automotive, by offering High reliability for ensuring zero-defects
Space
| | | |
| --- | --- | --- |
| | | |
| SOM-3-MPF300T component side | SOM-3-MPF300T solder side | SOM0n EMC2 carrier |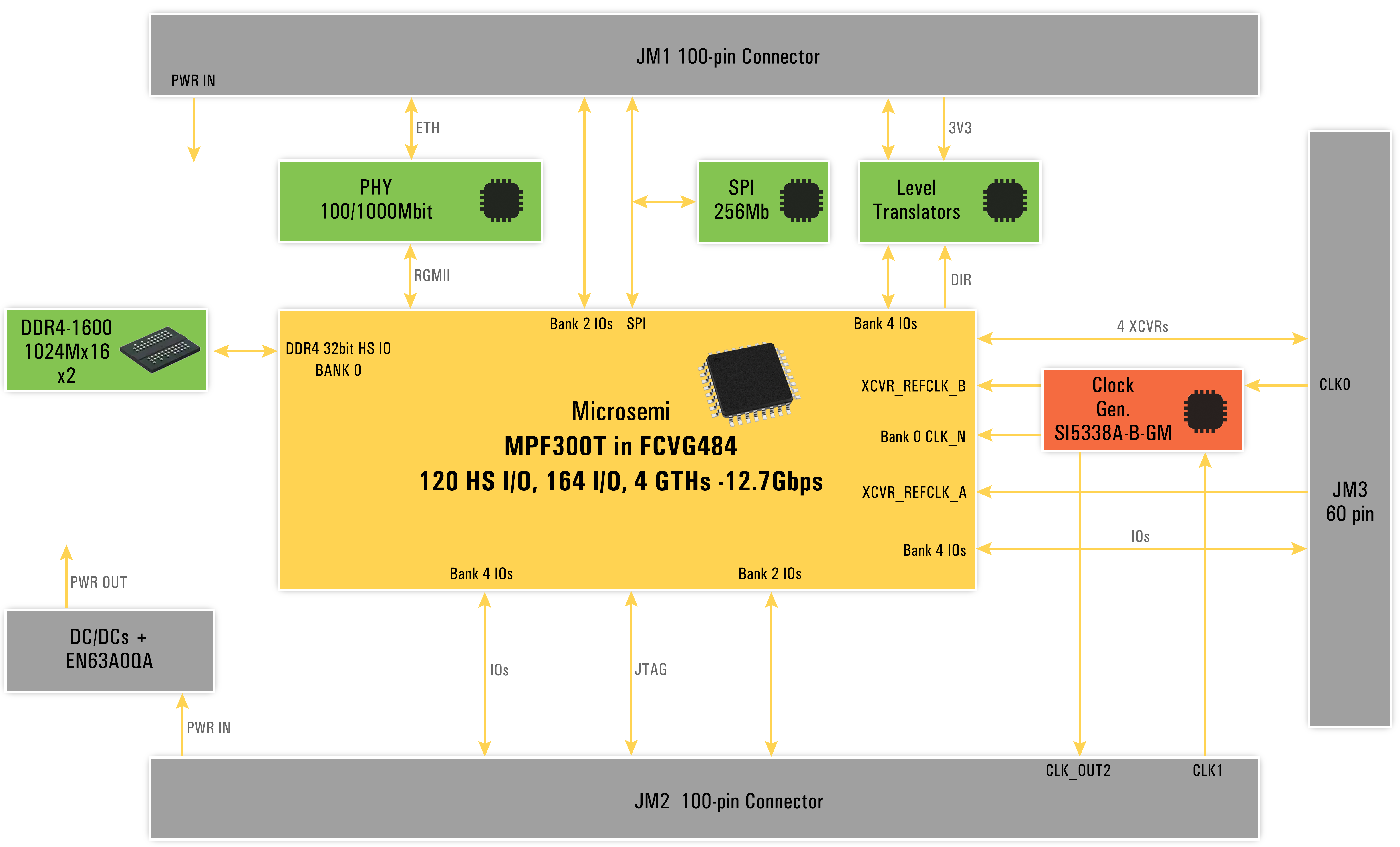 IP cores and drivers as available from Microsemi site for accessing the FPGA. Examples are provided by Sundance.
A full version of Libero SW, Silver License for FREE, supporting a PolarFire 100KLE device can be accessed from here: Download
SoM3-MPF100-1-E  -1 speed grade  with an MPF100T-1FCVG484E FPGA and with 4GB of DDR4 memory
SoM3-MPF200-1-E  -1 speed grade  with an MPF200T-1FCVG484E FPGA and with 4GB of DDR4 memory
SoM3-MPF300-1-E  -1 speed grade  with an MPF300T-1FCVG484E FPGA and with 4GB of DDR4 memory
Above are with extended temperature range and for Industrial please order:
SoM3-MPF100-1-I
SoM3-MPF200-1-I
SoM3-MPF300-1-I