SE125 is a low profile, 8 lanes PCIe card powered by the Xilinx  Zynq Utrascale+ MPSOC (XCZU7EV-2FFVC1156E / XCZU7EG/ XCZU11EG / XCZU7CG ). When XZU7EV is populated, it is capable of video decoding/encoding, up to 8K resolution, targeting Data Center video streaming applications and with 11EG it can be a network accelerator card. SE125 offers eight lanes of PCI Express Gen 4,  two front-panel USB 3.0 and one QSFP, 16 GB of DDR4 memory to PL organized as 2 independent banks of 8GB each (64 bits wide), 8GB of DDR4 to PS. Summary of devices and available resources: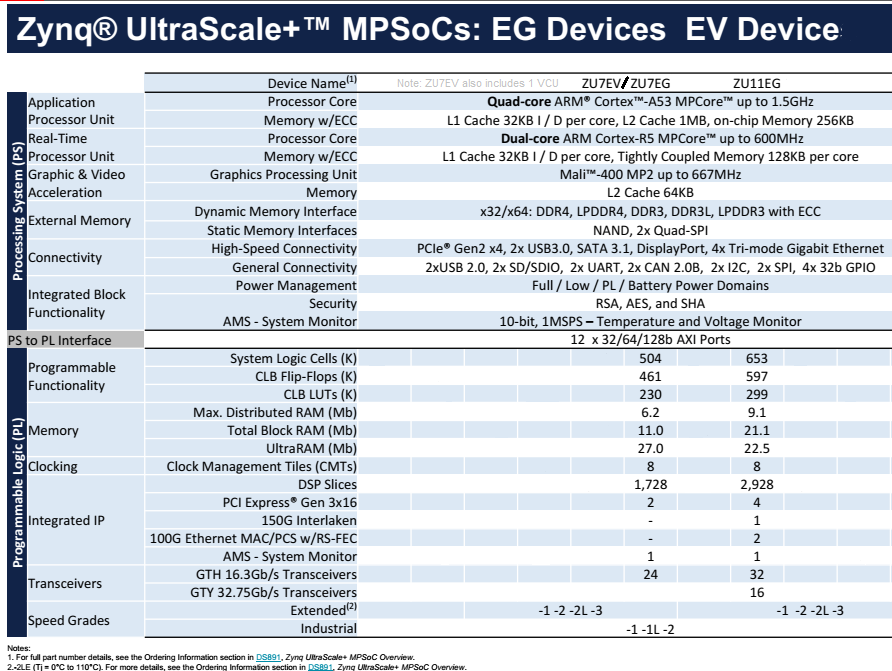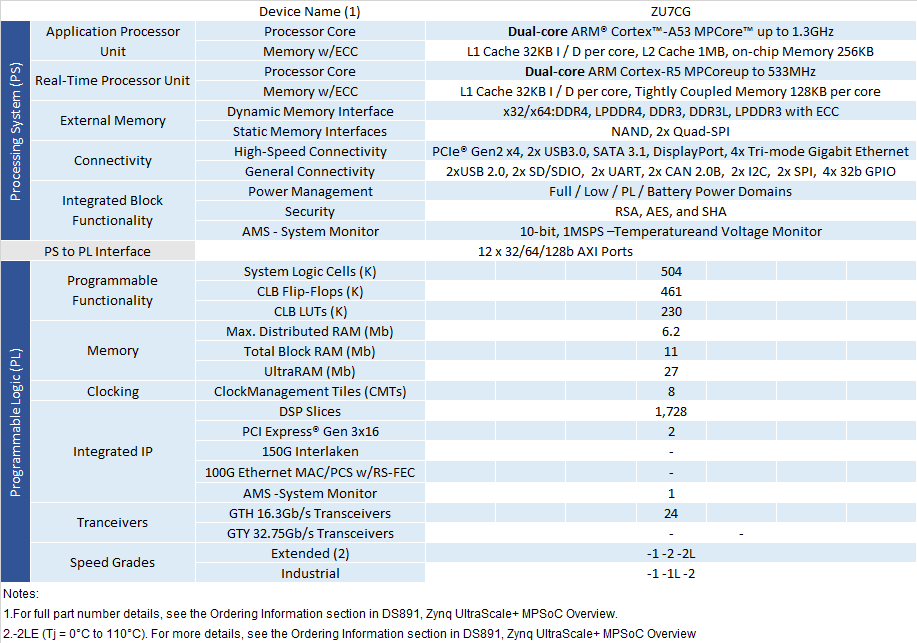 Features
Xilinx XCZU7EV-2FFVC1156 MPSoC, with optional XCZU7CG, or XCZU7EG units instead;
QSFP+ Connector for 4 channels of 10GbE optic, or 40GbE (needs custom IP core);
PCIe x8 Gen.4 with SMBus for PC connectivity and firmware upgrade;
Dual QSPI FLASH for storing boot image;
RJ45 for Gigabit Ethernet;
8GBytes of eMMC for firmware upgrade or data storage;
Four 1024×16 DDR4 chips (8GB) connected to PS part organize as 64-bit data bus;
16GB of DDR4 to PL, through 2 independent banks of 8GB each, via 64 bits wide interface
Samtec FireFly optical-interface connectors, 4 lanes each;
Integrated Quad-core ARM Cortex A53 with NEON, Real-time processing Dual-core ARM cortex-R5;
Integrated Mali-400 GPU with OpenGL ES2.0;
Display port v1.4 with 2 Tx lanes;
Onboard XO 50MHz ±20ppm for PS part clocking, inside chip there are PLLs for various part clocking;
The clock generating IC – SI5341A – provide flexible clocking to the PL part of MPSoC and for GTR transceivers;
JTAG via parallel cable JTAG;
Two UARTS form ARM via USB IC CP2105, connector type – micro-B;
6 pin PEG Connectors for external power;
SMBus compliant interface provided via PCIe connector;
A 3 pin connector for FAN;
4 Status MPSoC LEDs, 6 power-good LEDs for various power, 4 User LEDs;
Global reset button and PS only reset button;
Dip switches for boot mode selection;
2 host USB3.0 with USB2.0 interfaces for connection to devices. In particular for attaching to HDMI via USB3.0 – HDMI converters. Connector type USB 3.0 A.  Example video in/out hw for USB3.0 are:
For video output For video input
Applications
Artificial Reality / Virtual Reality ( AR/VR)
Digital Communications
Network Acceleration
Data Centers with video streaming video encoding/decoding
High-performance optical networking
Defense
| | | |
| --- | --- | --- |
| | | |
| Component side | Solder side | frontal view |
| | |
| --- | --- |
| | |
| 3D Model of all interfaces | Location of interfaces |
| | |
| --- | --- |
| | |
| Low profile PC, front | Low profile PC, rear |
Block Diagram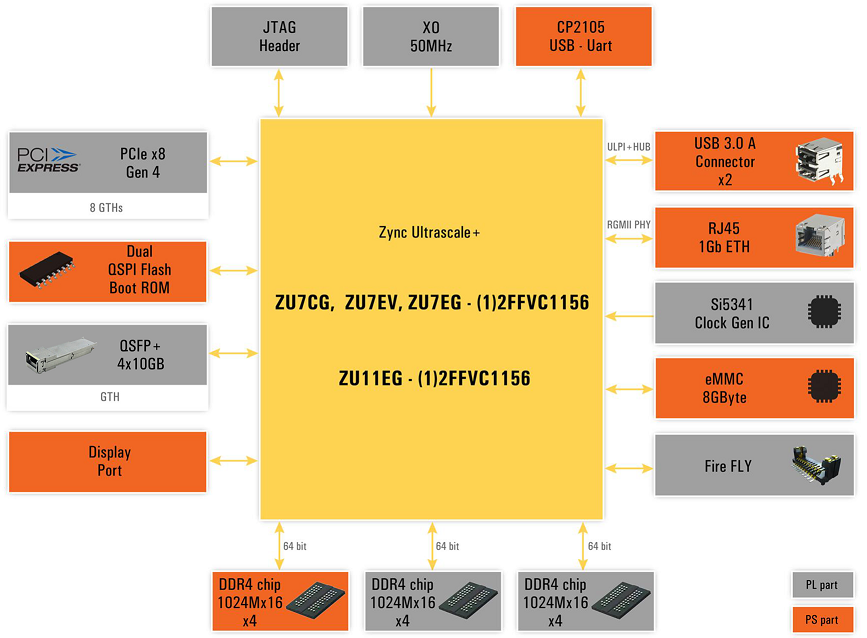 Windows 1o and Linux driver are available.
Vivado  project is supplied for BSP.
SE125-xyy-z-t
x  = 7 or 11 in the case of EG only
yy = CG, or EV or EG
Z = speed grade which by default is -2 but -1 can be selected.
t = temperature grade. Default is -E which is extended but -C (commercial) or -I (industrial) can be selected