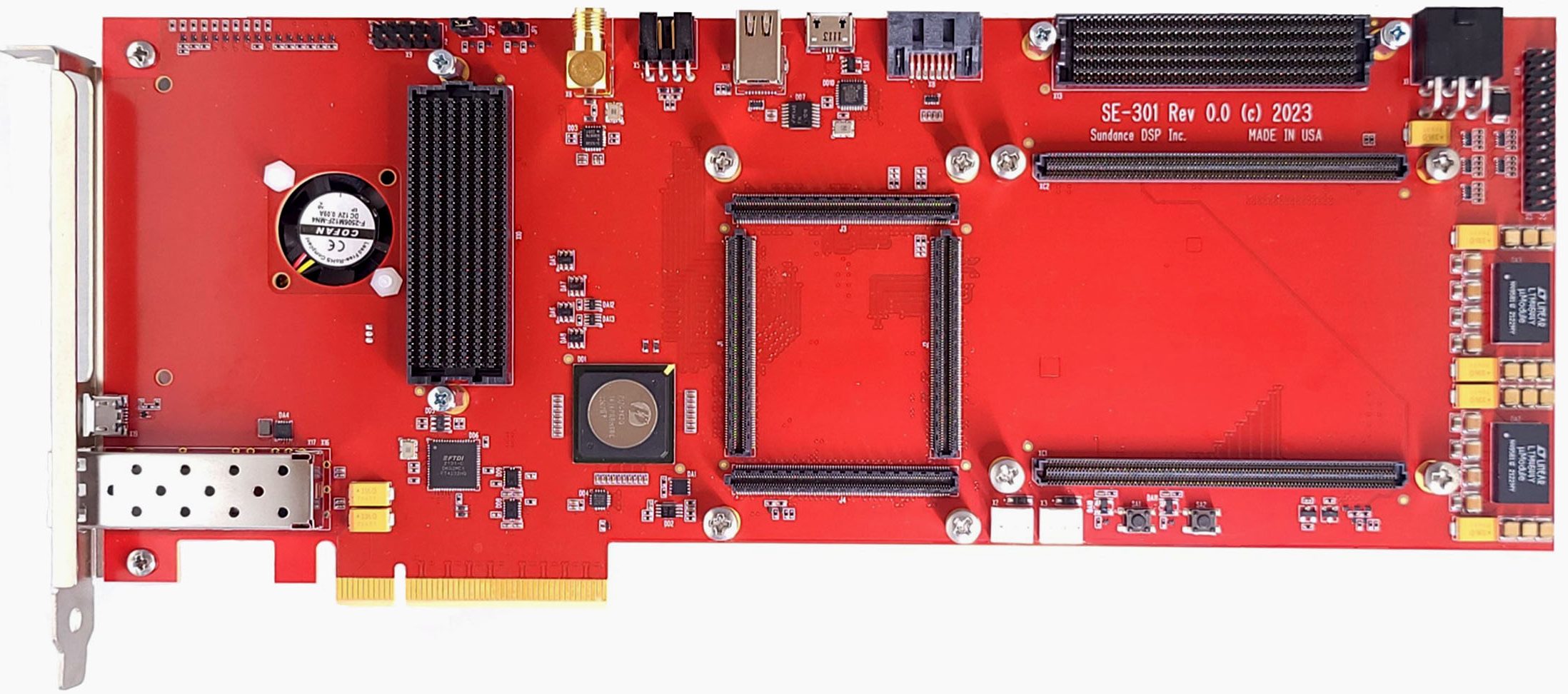 The most powerful Carrier Card for SOM Modules
SE301 is an 8-lane PCIe card with 2 slots: one for a SoM1, based on a MPF500T, and another for a SoM1-SOC based on a MPFS460T FPGA.
SE301 is the ultimate board for Polarfire-based SoM Modules that lets you use two Polarfire SoMs simultaneously and access all of their features through one platform. The SE301 board can be used as a stand-alone device testbench or integrated into a PC using a PCIe slot. Seamless programming and debugging of the board is available by using a USB/UART-JTAG bridge via the front panel accessible micro-USB port. The FMC and FMC+ mezzanine connectors can be used to further expand the capabilities of the platform by using mezzanine cards available from SDSP or a multitude of 3rd party vendors.
The SE301 board is a perfect solution for a myriad of modern applications, such as wireline access networks and cellular infrastructure, defense and commercial aviation markets, industrial automation and IoT markets, edge computing markets, and AI/ML markets. The Polarfire SoM modules offer low-power consumption, high-performance transceivers, memory interfaces, data security features, design security features, and a multi-core RISC-V processor subsystem that are ideal for these applications.
A major advantage of Polarfire  FPGAs is their instant "ON" feature which allows the device to boot immediately. Fast boot times are critical as in applications where the power to the system is disconnected, the system becomes ready instantly after power is asserted.
Features of the SE301 Board
The Se301 board has two slots for SoM modules: Slot 1 and Slot 2. Slot 1 is compatible with the MPF500 Polarfire (SoM1), which is a low-power FPGA module with high-performance transceivers and DDR4 memory interfaces. Slot 2 is compatible with the MPFS460 Polarfire SoC  (SoM1-SOC), which is a system-on-module with a multi-core RISC-V processor and a low-power FPGA fabric. You can also use other variants of these modules, such as the MPF300T or the MPFS250T-1152, with some limitations.
The onboard FMC+ (ASP-184329-01) connector on this board can optionally be assembled to have some GPIOs connected to slot 2. This configuration will violate the Vita 57.4 FMC+ standard but allows the mezzanine card to have the capability to be leveraged from either device simultaneously.
Seamless Development with Versatile Connectivity Options
The SE301 is an exceptional carrier card specifically designed to complement SDSP's SOM1 and SOM1-SOC modules. This innovative board serves as a versatile platform for seamless development, offering a wide range of connectivity options to meet your project's requirements. With its flexible design, the SE301 empowers developers to unlock the full potential of their SOM modules.
Enhanced Connectivity Options for Maximum Flexibility
The SE301 provides a comprehensive set of connectivity options to support your development needs. With an FMC+ slot, FMC slot,  SFP+ module, SATA, USB, and other peripherals available on the carrier card, you can easily integrate various external devices and expand the functionality of your SOM module-based system. This flexibility ensures compatibility with diverse application scenarios and allows for the creation of innovative solutions.
Seamless Integration and Power Options
The SE301 offers seamless integration into your development environment. It can be conveniently plugged into a PC's PCIe slot, drawing power directly from the PCIe interface. Alternatively, it can function as a standalone board, powered through a 6 pin standard PCIe AUX power connector, providing you with the flexibility to adapt to different setups and project requirements.
Versatile Compatibility with SDSP's  SOM Modules
The SE301 is fully compatible with both the SOM1 and SOM1-SOC modules. Each module will be directly connected to PCIe if used in conjunction with a host PC. There are robust inter-module communication routes via GPIOs and transceivers too.
Features
Slot 1 location has the following features (SoM1 slot/location):

– One RGB user LED for the SoM1-MPF500 device

-16 Transceivers routed to the ASP-184329-01 connector (Vita 57.4 FMC+ Connector)

-I2C from FMC+ can be routed to slot 1 or slot 2, controlled via firmware

– 4 Transceivers for inter-module connection to slot 2

-16-bit AXI-streaming interface to slot 2 location

-GPIO interface to the slot 2 location, a total of 20 GPIOs

-4 lane PCIe link to a PCIe switch.

Slot 2 location has the following features (SoM1-SOC slot/ location):

-Micro–AB USB 2.0 connector for slot 2 location, with OTG interface mode

-Two RGB user LEDs for the SoM1-SOC device, one from the MSS, the second from the FPGA fabric

-24 pin 2.54mm header for GPIO access

– 9 Transceivers routed to the FMC Vita 57.1 connector when an MPFS460T device is installed (FMC connector)

-4 Transceivers for inter-module connection to slot 1

-16-bit AXI-streaming interface to slot 1 location

-GPIO interface to the slot 1 location, total 20 GPIOs

-4 lane PCIe link to a PCIe switch

Possibility to route HB[15..17] via shunts from the FMC+ ASP-184329-01 connector to Slot 2

SATA Gen 3 HOST interface connected to the FPGA fabric with a connector

SFP+ port interface connected to the FPGA fabric with a connector

Display port for providing video output from the MSS

Dual port Gigabit Ethernet from the MSS

Common clocking IC on carrier is SI5338, external selectable clock input via SMA connector

LEDs for power good indication

Onboard DC-DC converters for the FMC/FMC+ connectors and SoM modules

6-pin PCIe connector for external additional power or standalone usage (455580003)

USB/UART-JTAG bridge via the Micro-USB connector

JTAG chain with Slot 1 and Slot 2 in series (when no jumper selection is added), the chain is selectable via jumpers so either device can be targeted independently

PCIe x8 Gen2 for interfacing with a PC

PCIe x4 to Slot 1 and to Slot 2 via PCIe switch PI7C9X2G161

Temperature range, 0°C to +50°C
The maximal power consumption of the board including FMCs is 130W
Applications
Data logging MIMO system defense and Aerospace
Diversity multiband, multimode digital receivers
3G/4G, TD-SCDMA, W-CDMA, GSM, LTE, LTE-A
Electronic test and measurement systems
Phased array radar and electronic warfare
DOCSIS 3.0 CMTS upstream receive paths
HFC digital reverse path receivers

IoT, edge computing, smart vision

Motor control, industrial automation

Cryptography, blockchain, cybersecurity

AI acceleration and advanced analytics

ADAS, avionics and flight control
Full BSP with Linux or Windows driver and test/example firmware/sw is included.