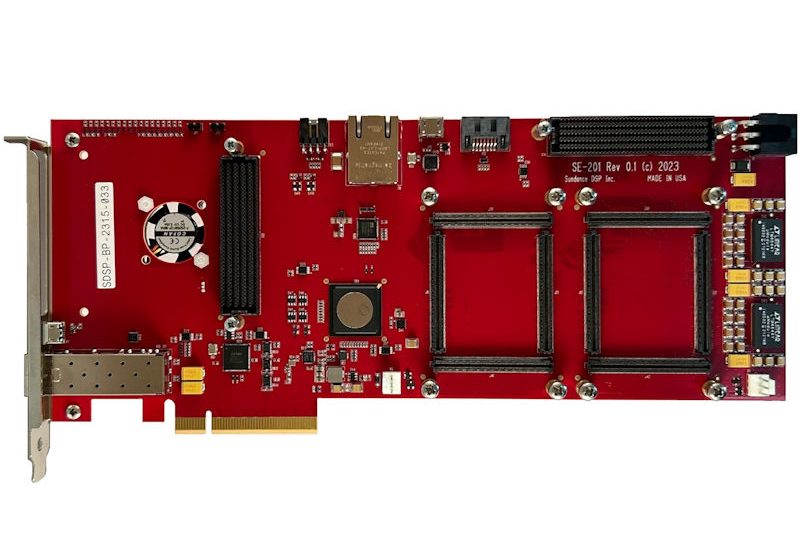 The Ultimate Carrier Card for SOM Modules
Seamless Development with Versatile Connectivity Options
The SE201 is an exceptional carrier card specifically designed to complement SDSP's SOM1 and SOM2 modules. This innovative board serves as a versatile platform for seamless development, offering a wide range of connectivity options to meet your project's requirements. With its flexible design, the SE201 empowers developers to unlock the full potential of their SOM modules.
Enhanced Connectivity Options for Maximum Flexibility
The SE201 provides a comprehensive set of connectivity options to support your development needs. With an FMC slot, SFP+ module, SATA, USB, and other peripherals available on the carrier card, you can easily integrate various external devices and expand the functionality of your SOM module-based system. This flexibility ensures compatibility with diverse application scenarios and allows for the creation of innovative solutions
Seamless Integration and Power Options
The SE201 offers seamless integration into your development environment. It can be conveniently plugged into a PC's PCIe slot, drawing power directly from the PCIe interface. Alternatively, it can function as a standalone board, powered through an AUX power connector, providing you with the flexibility to adapt to different setups and project requirements.
Versatile Compatibility with SDSP's SOM Modules
The SE201 is fully compatible with both the SOM-MPF-1 and SOM-MPF-2 slots, accommodating SDSP's SOM-MPF500T-1 modules as the primary option. However, if needed, the carrier card also accepts the SOM-MPF300T-1 or SOM-MPF300T-2 modules with reduced functionality. This compatibility ensures flexibility and scalability, allowing developers to choose the most suitable SOM module for their specific application requirements.
Features
PCIe x8 Gen2 for PC interface;
PI7C9X2G1616PR – multi-port 16-lane PCIe Gen2 switch from Diodes;

Two SoM-MPF modules slots called SoM-MPF-1, and SoM-MPF-2, for modules with MPF500(SoM-MPF500T-1) and MPF300 FPGA (SoM-MPF300T-1);
Slots can also accept SoM-MPF300T-2 or SoM-MPF300T-1 modules, with reduced functionality
TWO FMCs HPC Vita 57.1 connectors for functional extension with all lanes, except HB;
FMC VADJ supported 1.8V, 2.5V, 2.65V, and 3.3V;
SATA Gen 3 HOST interface with connector;
SFP+ connector for 10Gb/1Gb optical modules;
Double row header connector for 100/1000Mbit Ethernet connection, like PCIe104z;
USB 2.0 Host port for various peripheral connections, routed to header;
USB 2.0 Device for onboard JTAG and UART debug purposes – connector micro USB
Common clocking IC SI5338;

Four user LEDs for each SOM slot, two red and two green.

LEDs for power good indication;
Onboard power for FMC and SoM-MPF modules;
Connector for external additional powering;
Temperature range, 0°C to +50°C;

The maximal power consumption of the board including FMCs is 130W
Applications
Data logging MIMO system defense and Aerospace
Diversity multiband, multimode digital receivers
3G/4G, TD-SCDMA, W-CDMA, GSM, LTE, LTE-A
Electronic test and measurement systems
Phased array radar and electronic warfare
DOCSIS 3.0 CMTS upstream receive paths
HFC digital reverse path receivers
Are you ready to take your development projects to new heights? Experience the versatility and seamless integration offered by the SE201 carrier card. With its wide range of connectivity options, flexible power configurations, and compatibility with SDSP's SOM modules, the SE201 empowers developers to create cutting-edge solutions. Explore the limitless possibilities and unlock the full potential of your SOM-based system.
SE201