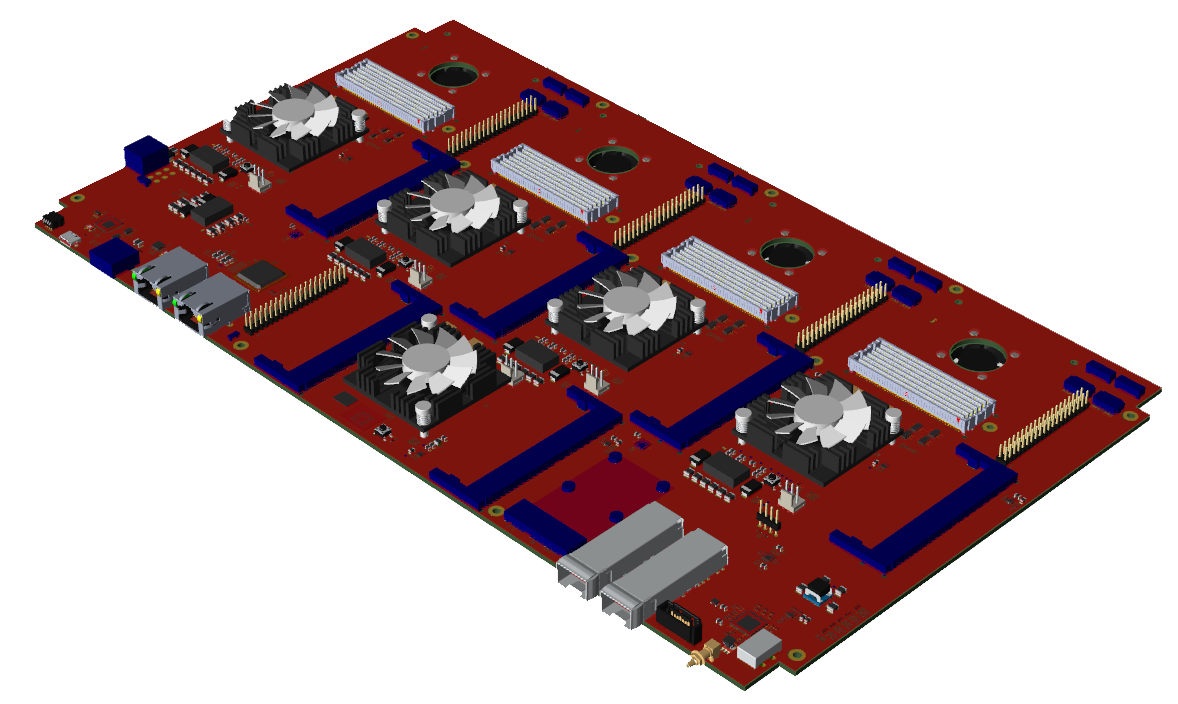 SE300 is a scalable  MIMo solution populated with ADC and DAC FMC+ modules like Sundance DSP FMCP-ADC3p0 and FMCP-DAC12p0. Note that FMCP-DAC12p0 can piggyback an FMCP-ADC3p0 hence the fully populated board will be capable of offering 16 channels of ADC and 16 channels of DAC. It has the capability of capturing/processing data over long distances using the Firefly(c) from Samtec.
SE300 has a PolarFire SoC MPFS460T-FCG1152 as the central unit and 4 Polarfire FPGAs (MPF500T-FCG1152) as FMC+ controllers. Also, there is a flexible clock tree with JESD204B capable of inter-chip synchronization, which allows the creation of coherent systems with 4 FMC+ mezzanine cards.
PolarFire MPSOC  is an  FPGA + RISC-V processor. PolarFire SOC has a 5-core RISC-V processor (PS part) and programmable Logic (PL) resources.
The board offers the following main interfaces:

SODIMM 260 pin connector, with a 32-bit interface for the PS part;
SODIMM 260 pin connector, with a 64-bit interface for the PL part;
32MB SPI Serial FLASH for storing boot image;
8GByte of eMMC storage for various purposes;
Two RJ45 with 100/1000BASE-T interfaces;
USB 2.0 HOST interface, for user purposes;
Two SFP+ connectors;
Full or Half-size mPCIe connector with PCIe x1 interface;
SATA connector, with SATA 3.0 interface;
16 XCVRs routed to slave units, 4 XCVR each;
Star topology low-speed LVDS connections to each unit, 4 pairs to each unit*;
User LEDs;
Features
Main Unit – PolarFire SOC FPGA from Microchip (MPFS460T-FCG1152);
Slave units – PolarFire FPGA MPF500T-FCG1152;
Flexible clock tree with JESD204B capability, based on HMC7044;
Inter unit communications with high-speed transceivers;
Inter unit communications with low speed LVDS mesh connections;
4 FMC+ connectors with 16 ten gigabit transceivers, and GPIOs LA[00:33], HA[00:23]* each;
VADJ is separately regulated for each FMC+ slot;
JTAG chain with all 5 units;
USB bridge with JTAG and UART interfaces;
Power IN – 12V;
Power consumption of module is 60W (excluding FMC+ mezzanine consumption);
Applications
Data logging MIMO systemDefense and Aerospace
Diversity multiband, multimode digital receivers
3G/4G, TD-SCDMA, W-CDMA, GSM, LTE, LTE-A
Electronic test and measurement systems
Phased array radar and electronic warfare
DOCSIS 3.0 CMTS upstream receive paths
HFC digital reverse path receivers
A complete Libro project showing the capture of ADC signals by using  JESD204B IP core with sample data sent to a host via SFP+ will be provided.
SE300-x-T
where X can be 1,2 ,3 or 4. Default is 1
T is either E for extended temperature  or I for industrial.
All parts will be -1 speed grade
For a bundle price with ADC and/or DAC FMC+ modules please contact SDSP.