PC104P is in stack-PC form factor and complies with  PCIe104 TYPE2 peripheral board specification. It offers a rapid development platform for applications intending to use MPF500T-1FCG1152  (or MPF300T) Polar Fire FPGA from Microchip. The card includes 8GB of 32bits wide DDR4, HPC FMC compatible with Vita 77.1 standard, SFP+, Display Port, SATA, USB  JTAG, and user and power GOOD LEDs. PC104P also includes one End Point (EP) PCIe x4 GEN2 on StackPC bottom connector for interface to a host card.
This  PCIe104 TYPE2 peripheral board comes with stack up and stack down connectors. However, the board can be only used as End-Point in stack-up configurations for connection to StackPC host; and stack-down connector is used for connection to an adjacent peripheral module.
PC104P uses the powerful, low-power, and high-security PolarFire FPGA from Microsemi. It is based on the MPF500T-1FCG1152E (or MPF300T-1FCG1152E) FPGA with an industry-standard footprint, low power, high security, ample processing resources, and many hardcore IPs like JESD204B, RISC V, etc.  With its relatively low cost, it can be suitable for applications where cost and low-power and security are important. The module is compatible with some SoMs from Trenz
Due to the absence of PCIe x4 link shifting in this board, any other peripheral module with PCIe connection should be under it or if no PCIe link is needed then it can be stacked down above it as shown in the diagram below.

The board comes with an IO card that connects to the board Via an LSHM connector. It provides interfaces for Display port, SATA, and USB.
A High Pin Count (HPC) FMC site is also provided on this board.
The SFP+ connector is not fully placed on the PCB but in our enclosure, that connector is fully supported mechanically by the enclosure. Applications that do not need SFP+ can have that not populated or removed.
If PCIe104 TYPE1 card is required then PC104P can be adopted with some rework.
The stack PC from 7STARLAKE, OXY5741A Scalable PCIe/104 CPU Module, is a suitable development platform for this card.
Features
Industry-standard PC104 format with MPF500T-1FCG1152 PolarFire FPGA from Microsemi (now Microchip);
Option to use MPF300T-1FCG1152 (in that case Display port – unavailable);
Two 1024×16 DDR4 chips for RAM;
PCIe104 stack-up and stack-down connectors;
Acts as PCIe104 type 2 peripheral board – compatible with PCIe104 type 2 (or Type 1 with rework) and StackPC hosts;
PCIe x4 Gen2 as EP;
FMC HPC Vita 57.1 connector for functional extension with all lanes, except HB;
FMC VADJ supported 1.2V, 1.8V, 2.5V;
Two SATA Gen 3.0 HOST interfaces, first one routed to IO board, second routed to PCIe104 TOP connector, Lane 1 (Available only with MPF500T);
SFP+ connector for 10Gb/1Gb optical modules;
Display port connector with 4 unidirectional Lanes, with AUX channel(Display port unavailable, when MPF300 used), routed to IO board;
Micro USB 2.0 connector for onboard JTAG and UART debug purposes – routed to IO board;
LEDs for power-good indication;
Four Green user LEDs routed to IO board;
Two user RED LEDs on board;
Four user DIP switches;
Two user tactile reset buttons;
| | | |
| --- | --- | --- |
| | | |
| PC104P and IO module | PC104P solder side | Enclosure for PC104P+IO card+attached FMC |
3D diagram of PC104P in a Sundance enclosure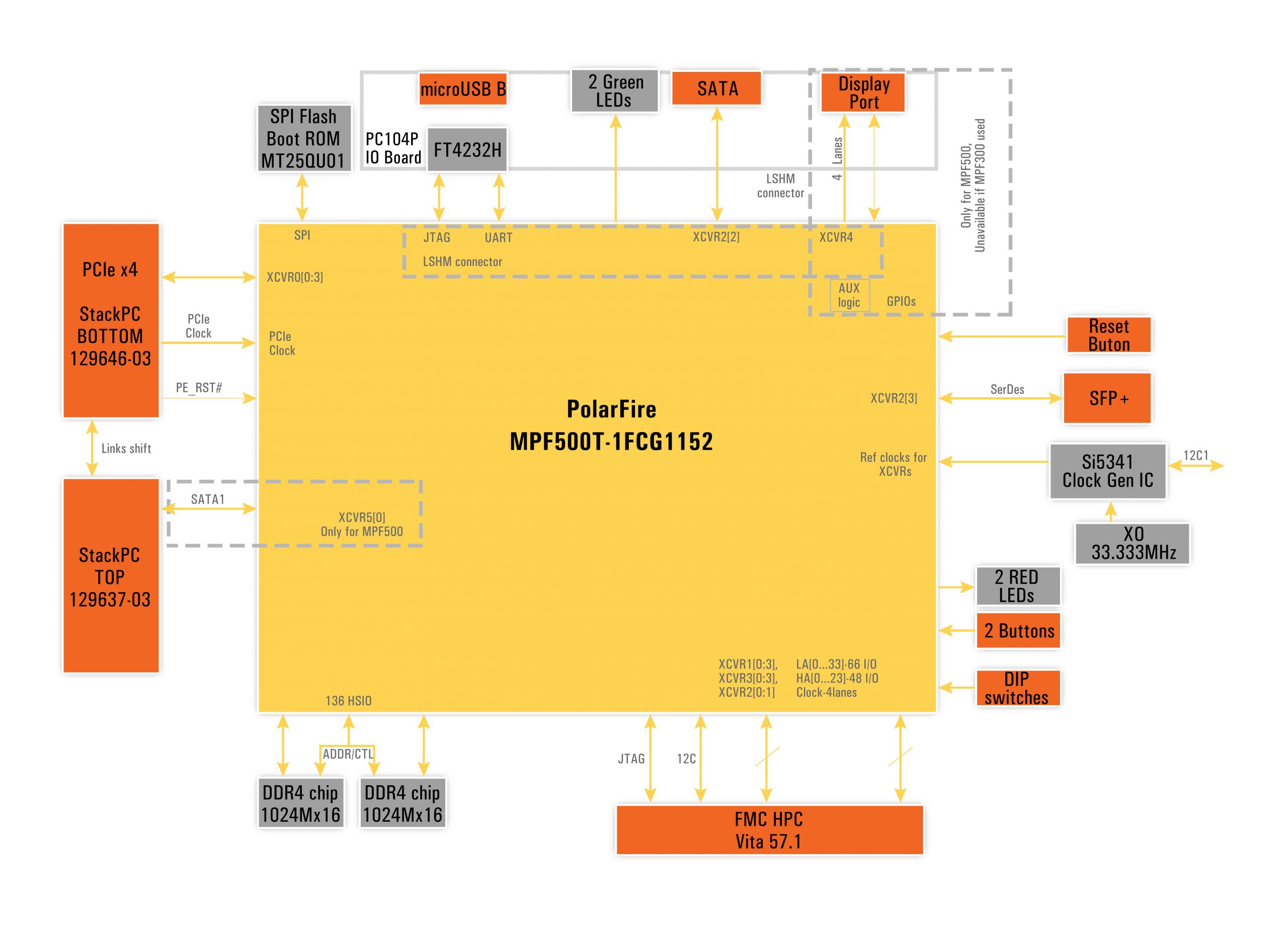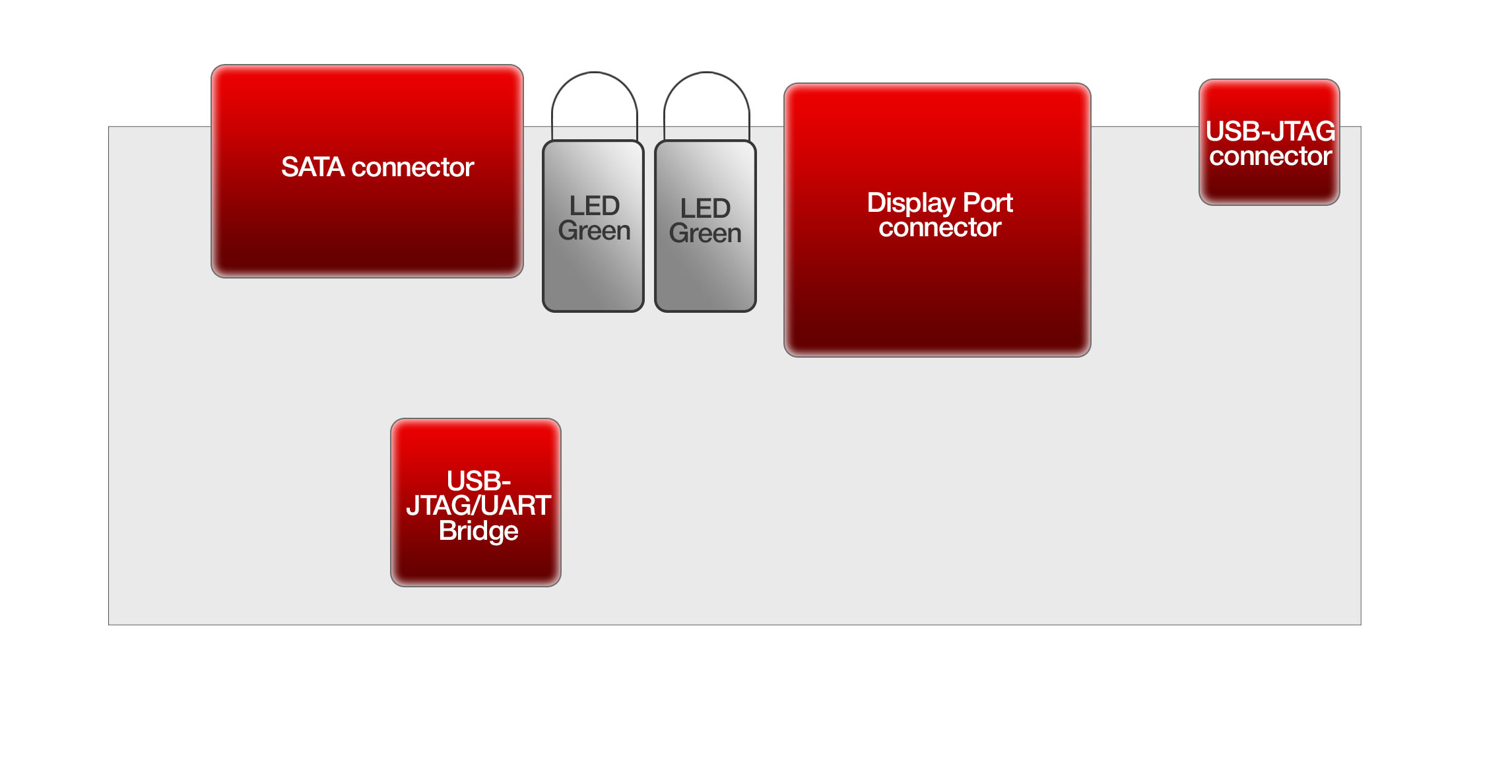 PC104P IO card placement diagram
The module comes with Windows driver and test application.
PC104P-MPFxxxT-1-Y
xxx can be 300 or 500
Y can be E or I which is for Extended or Industrial temp range.